National Oceanographic Data Center
Publications:
Customer Service - Data and Information Requests National Oceanographic Data Center NOAA/NESDIS E/OC1 SSMC3, 4th Floor 1315 East-West Highway Silver Spring, MD 20910-3282 Phone: 301-713-3277 Fax: 301-713-3302 Email: NODC.Services@noaa.gov
The National Oceanographic Data Center manages the acquisition, ingest processing, quality control and long-term preservation of oceanographic data. NODC is investigating interannual-to-decadal ocean climate variability using historical oceanographic data, and building scientifically, quality-controlled global oceanographic databases in their products known as the World Ocean Atlas and World Ocean Database. http://www.nodc.noaa.gov/General/NODC-About/NODC-overview.html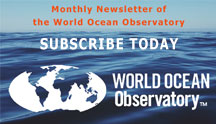 WORLD OCEAN EXPLORER 2020
With a game capable of reaching a global audience, WORLD OCEAN EXPLORER can expand interest in ocean issues and habitats, and excite students about the infinite possibilities associated with ocean exploration. LEARN MORE.