An Unexplored Landscape

Principle #7:
The Ocean is Largely Unexplored
A. The ocean is the largest unexplored place on Earth—less than 5% of it has been explored. The next generation of explorers and researchers will find great opportunities for discovery, innovation, and investigation.
B. Understanding the ocean is more than a matter of curiosity. Exploration, experimentation, and discovery are required to better understand ocean systems and processes. Our very survival hinges upon it.
C. Over the last 50 years, use of ocean resources has increased significantly; the future sustainability of ocean resources depends on our understanding of those resources and their potential.
D. New technologies, sensors, and tools are expanding our ability to explore the ocean. Scientists are relying more and more on satellites, drifters, buoys, subsea observatories, and unmanned submersibles.
E. Use of mathematical models is an essential part of understanding the ocean system. Models help us understand the complexity of the ocean and its
interactions with Earth's interior, atmosphere, climate, and land masses.
F. Ocean exploration is truly interdisciplinary. It requires close collaboration among biologists, chemists, climatologists, computer programmers, engineers, geologists, meteorologists, physicists, animators, and illustrators. And these interactions foster new ideas and new perspectives for inquiries.
First: Principle #1: One Big Ocean

DISTANCE LEARNING RESOURCES
To support all educators and parents teaching from home in the weeks ahead, the World Ocean Observatory is pulling together a compendium of home-study tools and resources for teaching and learning about the ocean. These resources can be used by parents, schools, educators and others to address the educational gaps being created by local and national 'shelter in place' initiatives to help flatten the curve on the Covid-19 outbreak. This list of resources is a work in progress: please reach out if you have other key elements that we should be sharing with our global community.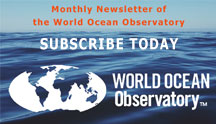 WORLD OCEAN EXPLORER 2020
With a game capable of reaching a global audience, WORLD OCEAN EXPLORER can expand interest in ocean issues and habitats, and excite students about the infinite possibilities associated with ocean exploration. LEARN MORE.