211: Catalyzing Ocean Finance
| | |
| --- | --- |
| | |
Recently, the Global Environmental Facility and the United Nations Development Program combined their talents and experience to address ocean solutions on the scale required to make a difference. In this episode of World Ocean Radio, host Peter Neill will begin to outline the findings of their work, which have been published in a two-volume journal entitled "Catalyzing Ocean Finance."
________________________________________________________________________
Peter Neill, Director of the World Ocean Observatory and host of World Ocean Radio, provides coverage of a broad spectrum of ocean issues from science and education to advocacy and exemplary projects. World Ocean Radio, a project of the World Ocean Observatory, is a weekly series of brief audio essays available for syndicated use at no cost by community radio stations worldwide. Contact us for more information.
Image Courtesy of the Global Environmental Facility
Resources from this Episode:
Citizens of the Ocean Pledge
Catalyzing Ocean Finance, Vol. I (pdf)
Global Environment Facility
United Nations Development Program

Ocean Health Index
A weekly feature to highlight, by country, the goals and components of the Ocean Health Index which measures and scores ocean health from 0-100.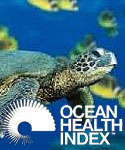 Country of the Week:
The Netherlands
Goal of the Week:
Coastal Livelihoods & Economies
Sustaining Jobs and Thriving Coastal Communities
Score: 83
Global Rank: 120
How Does Your Country's Score Compare?
Did You Know?
People rely on the ocean to provide jobs with steady wages and stable economies for coastal communities worldwide. The jobs and revenue produced from marine-related industries directly benefit those who are employed, but also have substantial indirect value for community identity, tax revenue, and other related economic and social impacts of a stable coastal economy. (source: OHI)

Step Aboard!