Ocean Health Index

Image courtesy of OceanHealthIndex.org
2016 Global Ocean Health Index score: 71 out of 100
The Ocean Health Index announced its 2016 global score, 71 out of 100, at the 18th annual Large Marine Ecosystems meeting held in Paris (12/8/16.) Global scores have remained largely stable from 2012 - 2016.

The Ocean Health Index is a tool for ongoing assessment of ocean health. It rates the health of the ocean by country on one of ten goals: food provision, artisinal fishing opportunities, natural products, carbon storage, coastal protection, coastal livelihoods & economies, tourism & recreation, sense of place, clean waters, and biodiversity. One of the goals of the Index is to help countries make more informed policy decisions, especially in those regions that have already expressed a commitment to improving ocean health.
The Goals:
1. Establish a new world standard for measuring ocean health;
2. Influence decision-makers and raise global awareness to generate positive and dramatic action for improved ocean governance and health;
3. Establish (globally) clean water, food provision, carbon capture, biodiversity, coastal protection, recreational opportunities, artisanal fisheries, support of local economies, and a "sense of place".
The Ocean Health Index rates coastal places (from regions to nations) on 10 elements:
< artisanal fishing opportunity
< biodiversity
< carbon storage
< clean waters
< coastal livelihoods and economies
< coastal protection
< food provision
< natural products
< sense of place
< tourism and recreation
and is a new tool for evaluating the state of the world's oceans. The scoring system is based on assessment of ecological, social, economic and political factors for every coastal country and takes into account the major factors that influence the quality of regional marine ecosystems (listed above) and assigns a score from zero to 100 for each locale. To create the index, marine scientists from a range of conservation, academic, and government institutions developed a scoring system to assess the health of the oceans by focusing on the relationship between people and the sea.
Researchers evaluated ecological, social, economic, and political factors for every coastal country in the world, and then ran the data through the comprehensive metric to get a score for each. The world average was 60, and individual countries and territories ranged from a low of 36 (Sierra Leone) to a high of 86 (Jarvis Island). (Source: National Geographic)
A goal of the Index is to help countries make more informed policy decisions, especially in those regions that have already expressed a commitment to improving ocean health.
"The Ocean Health Index captures the multifaceted, two-way interactions between people and oceans using the best available science. By integrating information from many different disciplines and sectors, the index represents a significant advance over conventional single-sector approaches to assessing ocean condition... While other indices have tracked various economic, social, and environmental elements related to the oceans, this is the first index to track ocean health. Ours is the first ocean assessment tool that scientifically compares and combines key elements from all dimensions of the ocean's health — biological, physical, economic and social — so that leaders, managers and the public can promote an increasingly beneficial future for all ocean life, including us."
~ Heather Leslie, the Sharpe Assistant Professor of Environmental Studies. Click here to read Leslie's interview with David Orenstein of Brown University in its entirety.

DISTANCE LEARNING RESOURCES
To support all educators and parents teaching from home in the weeks ahead, the World Ocean Observatory is pulling together a compendium of home-study tools and resources for teaching and learning about the ocean. These resources can be used by parents, schools, educators and others to address the educational gaps being created by local and national 'shelter in place' initiatives to help flatten the curve on the Covid-19 outbreak. This list of resources is a work in progress: please reach out if you have other key elements that we should be sharing with our global community.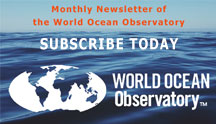 WORLD OCEAN EXPLORER 2020
With a game capable of reaching a global audience, WORLD OCEAN EXPLORER can expand interest in ocean issues and habitats, and excite students about the infinite possibilities associated with ocean exploration. LEARN MORE.