Hydropower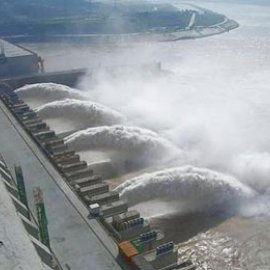 In the past decade, dams have been targeted as outdated, inefficient energy providers with serious impacts for the immediate and downstream environments. Of the 79,000 dams in the national inventory, some 925 have been removed in the last 100 years. In this episode of World Ocean Radio, host Peter Neill will share six strategies to improve dam operations and reduce impacts, as well as new technologies in hydropower development.
________________________________________________________________________
Peter Neill, host of World Ocean Radio, provides coverage of a broad spectrum of ocean issues from science and education to advocacy and exemplary projects. World Ocean Radio, a project of the World Ocean Observatory, is a weekly series of brief audio essays available for syndicated use at no cost by community radio stations worldwide. Contact us for more information.
Image:
Gezhou Hydropower Dam, China's largest hydro-electric dam on the Yangtze River.
Image Credit
Resources from this episode:
< America's Rivers Six Strategies to Improve Dam Operations
< Low Impact Hydropower Institute
< About Hydropwer and Dams (for kids)
< How Stuff Works: How Hydropower Plants Work