World Ocean Explorer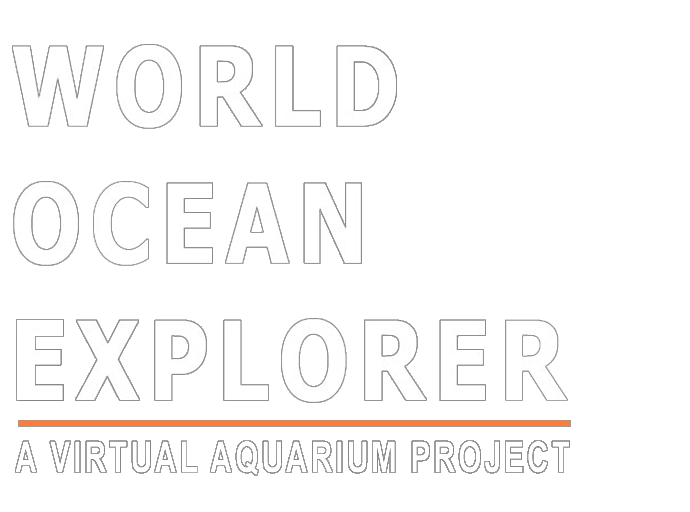 An educational, interactive 3D platform for ocean exploration and discovery.
A cutting edge virtual aquarium, World Ocean Explorer is designed to increase
ocean literacy and interest in ocean fields of study through a web-based interactive.
World Ocean Explorer's second feature:
THE HUB
Supported by Seth Sprague Educational and Charitable Foundation
Launch: April 2023
Jump to THE HUB (beta work in progress)
(CHROME browser strongly recommended)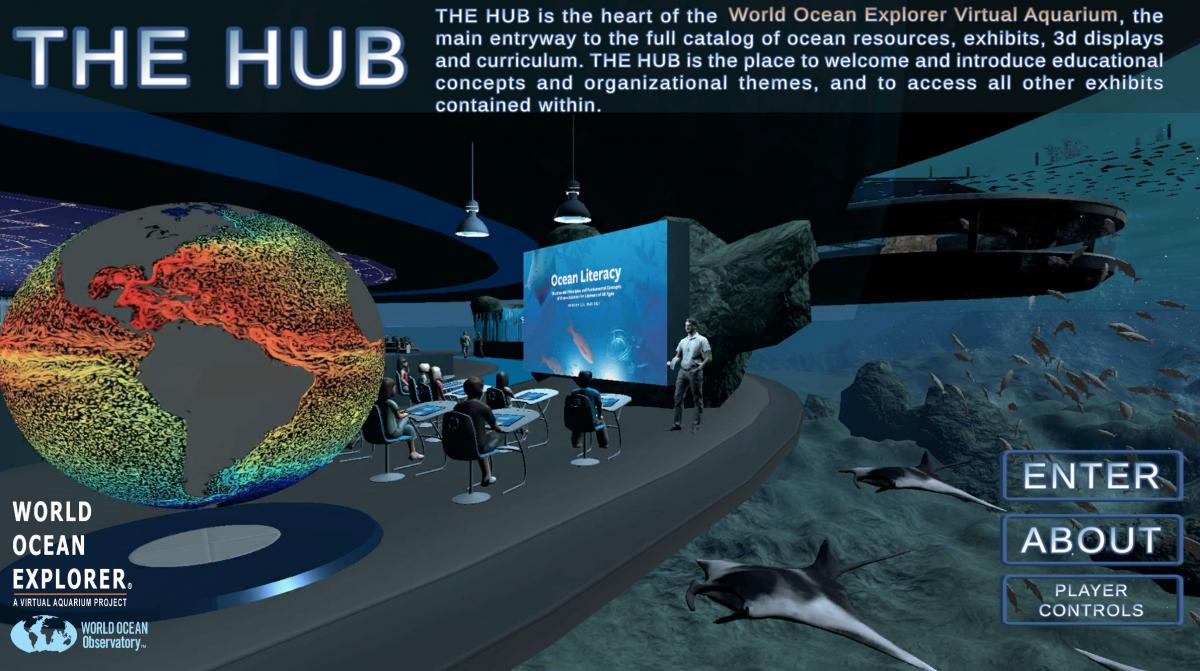 THE HUB is the central, organizing space and main portal to all other aspects of the virtual experience, including all exhibits (including DEEP SEA). THE HUB contains access to our virtual manned submersible, the Earth Ocean Analyzer interactive mapping tool, the Ocean Theater auditorium for a collection of underwater films and educational videos, and Ocean Classroom, the educational resource center where Ocean Literacy principles are explored and organized.
---
World Ocean Explorer's premier exhibit:
DEEP SEA
Sponsored by Schmidt Ocean Institute
Launch: March 29, 2022
Update i: December 20, 2022
JUMP TO DEEP SEA
(CHROME browser strongly recommended)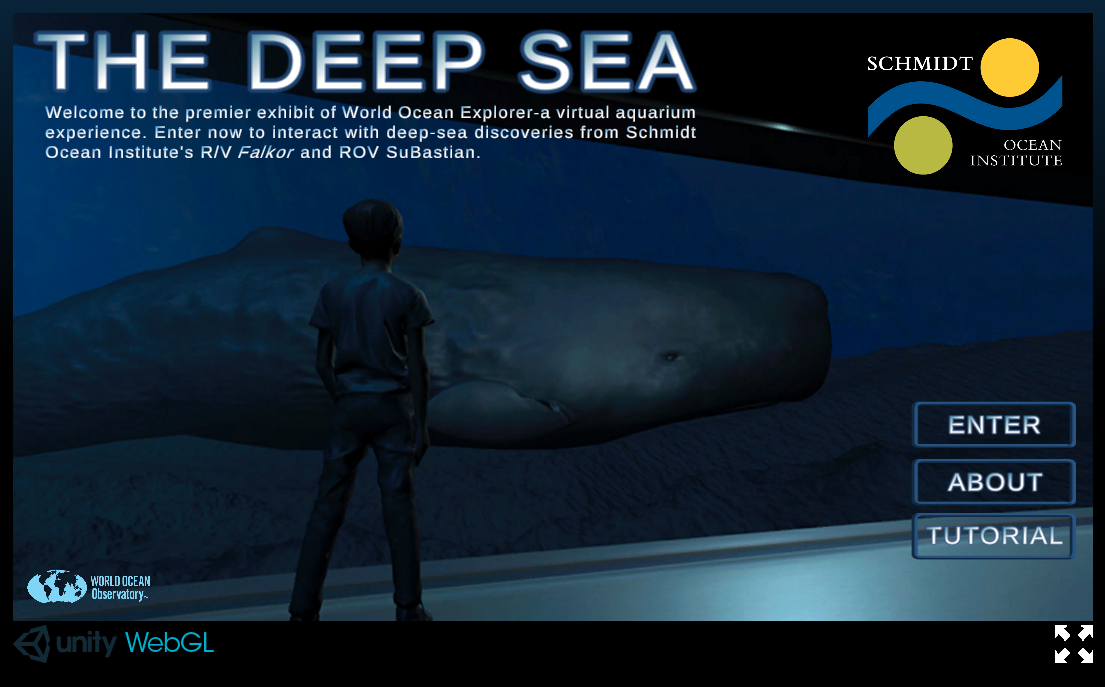 In March of 2022 World Ocean Observatory (W2O) and Schmidt Ocean Institute (SOI) announced the launch of World Ocean Explorer DEEP SEA exhibit, creating a first-of-its-kind immersive virtual aquarium showcasing deep-sea discoveries. THE DEEP SEA is an educational, interactive online platform for ocean exploration and discovery, utilizing high-resolution video, models, and descriptive materials of newly discovered deep-sea ocean species and environments observed during science expeditions aboard research vessel Falkor with the underwater robot (ROV) SuBastian.
DEEP SEA uses Unity gaming software to bring three-dimensional ocean literacy and marine science education to a worldwide audience of educators, students and individuals interested in the full spectrum of biodiversity and related value provided by the ocean–the largest, most essential natural system on earth. The virtual aquarium allows users to explore deep-sea ecosystems that cannot be observed in a traditional aquarium setting, such as hydrothermal vents, whale falls, and interactions with 3D models of newly discovered species.
Learn more by reading the original 03/22 press release here.
Start exploring DEEP SEA at worldoceanexplorer.org/deep-sea-aquarium.html
About World Ocean Explorer DEEP SEA Exhibit
Funded by Schmidt Ocean Institute, the virtual DEEP SEA exhibit showcases the encounters and discoveries during Schmidt's many deep-sea expeditions, most specifically their Australia Campaign in 2020. These expeditions of deep-sea environments, seamounts, sub-marine canyons and coral ecosystems brought to light a cache of new species and information available in DEEP SEA.
DEEP SEA is an online interactive platform highlighting the biological and geological finds of the cruises by Schmidt Ocean Institute RV Falkor and their ROV SuBastian. The online exhibit lets users learn about and interact with deep-sea organisms not otherwise available in a traditional aquarium setting. Features include:
immersive interactive displays including a hydrothermal vent and a whale fall
searchable and interactive species tanks
maps, videos, images, and 3D models
an Ocean Literacy exhibit
Our vision for this and future virtual exhibits is to include links to resources, the full Ocean Literacy curriculum, teaching modules and lesson plans. WORLD OCEAN EXPLORER has the capacity to increase ocean literacy worldwide, and we believe that educated and informed citizens can change human behavior on land and sea. Our strategy is simple: consolidate and expand existing innovations to reach a broader global audience. Explorer will help us to do just that, and Schmidt Ocean Institute's DEEP SEA exhibit and vast media catalog is designed to excite visitors with the infinite possibilities associated with ocean exploration. We are thrilled to collaborate with Schmidt Ocean Institute to bring this exhibit to users everywhere at no cost.
We are eager to hear your feedback; please reach out to info@worldoceanexplorer.org with any comments or observations.
WORLD OCEAN EXPLORER NEWS
April 2023
THE HUB launches. Full press release here.
December 2022
GROUND-BREAKING VIRTUAL AQUARIUM WINS 2022 MARCOM AWARD
World Ocean Explorer has won a Platinum MarCom Award. The MarCom Awards honor excellence in marketing and communication while recognizing the creativity, hard work, and generosity of industry professionals. W2O is proud to receive this honor and attribute this early success to our creative collaboration with Schmidt Ocean Institute and their belief in the potential of the Explorer virtual aquarium to become an important educational resource for ocean literacy.
April 2022
VIRTUAL LOBBY FUNDED AND CONSTRUCTION BEGINS
At this time we have begun work on the lobby area of the virtual aquarium. With support from the Seth Sprague Educational and Charitable Foundation, we have resources in hand to construct the entrance hall—one of the virtual aquarium's key features—that will welcome visitors to the upcoming Deep Sea exhibit and future portals. The lobby will have its own displays to introduce users to the full catalogue of resource modules contained within—in effect to build the place where we welcome and introduce our educational concepts and organizational themes to what we expect to be an audience of millions globally. Our ambition is to make the ocean accessible through inclusive interaction as wide, deep, and dynamic as the ocean itself.