Beyond Denial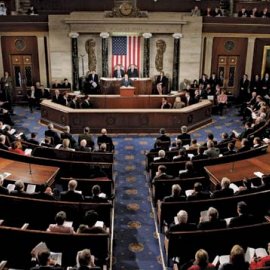 In light of a recent all-night vigil on the Senate floor (see #Up4Climate), World Ocean Radio host Peter Neill was inspired to write this week's episode, sounding off about the egregious failure of governance with regard to climate change: one of the most pressing issues for the future of human survival. In this episode he'll suggest that we must get beyond the inaction of our governing bodies and engage as individuals, organizations, educators, and activists to counter the forces of denial, to define alternatives, and to promote solutions toward a new future.
Image: Failed governance: on the House floor, Washington DC, 2013.
_____________________________________________________________________
Peter Neill, host of World Ocean Radio, provides coverage of a broad spectrum of ocean issues from science and education to advocacy and exemplary projects. World Ocean Radio is a weekly series of brief audio essays available for syndicated use at no cost by community radio stations worldwide. Contact us for more information.