Waste-Free Ocean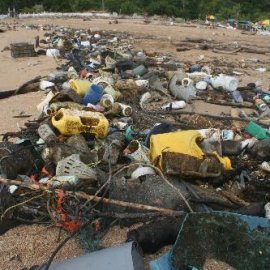 Of all the types of waste in the marine ecosystem, plastic is perhaps the best known: it shows up on beaches, in the stomachs of shore birds, fish and mammals, in the vast, swirling gyre in the Pacific. While recycling technology and acceptance has advanced for glass, metal and paper, only a fraction of plastic is recycled. In this episode of World Ocean Radio, host Peter Neill will argue that we must recover the plastic already in the waste stream, creating incentives, cost benefits and investment opportunities for its capture and reuse.
_____________________________________________________________________
Peter Neill, host of World Ocean Radio, provides coverage of a broad spectrum of ocean issues from science and education to advocacy and exemplary projects. World Ocean Radio is a weekly series of brief audio essays available for syndicated use at no cost by community radio stations worldwide. Contact us for more information.
Image: Plastic pollution on the shores of Isla Taboga, Panama.
Credit: J.M. van Coutren | Marine Photobank
Resource from this Episode:
Waste Free Oceans Foundation