Microbeads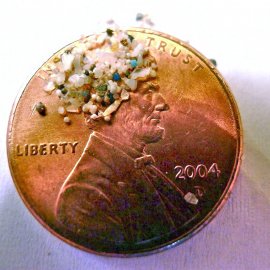 Plastic is everywhere: seen and unseen, in wetlands, in swirling gyres of debris, on beaches, and in the water column. In this episode of World Ocean Radio host Peter Neill will discuss just how pervasive plastics have become by describing microbeads, particulates found in exfoliant creams and whitening toothpastes which are flushed, by the billions, down through the waste water network and into rivers, lakes, and ocean.
________________________________________________________________________
Peter Neill, host of World Ocean Radio, provides coverage of a broad spectrum of ocean issues from science and education to advocacy and exemplary projects. World Ocean Radio, a project of the World Ocean Observatory, is a weekly series of brief audio essays available for syndicated use at no cost by community radio stations worldwide. Contact us for more information.
Image Source: Associated Press. Courtesy of 5 Gyres

Educational Resources:
< Thank You Ocean Report: The Microbead Dilemma | YouTube5
< 5Gyres: Beat the Microbead Campaign
< Beat the Microbead App!