Rockweed: Failing Down the Food Chain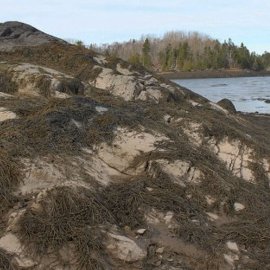 Over the past few years, demand for seaweed has grown beyond its status as a long-lived local, seasonal harvest. Today it is used for fertilizer, health products, and as an additive to processed food. Rockweed has become vulnerable to larger corporate interests, yet another under-regulated natural resource that is under-managed, over-harvested, and over-exploited. In this episode of World Ocean Radio, host Peter Neill will describe the industrial practice of rockweed harvest and processing and will argue that we are again choosing short-term profit over long-term sustainability, setting ourselves up for the loss of yet another irreplaceable asset.
_____________________________________________________________________
Peter Neill, host of World Ocean Radio, provides coverage of a broad spectrum of ocean issues from science and education to advocacy and exemplary projects. World Ocean Radio is a weekly series of 5-minute audio essays available for syndicated use at no cost by college and community radio stations worldwide. Contact us for more information or to become a broadcast affiliate.