The Age of Waste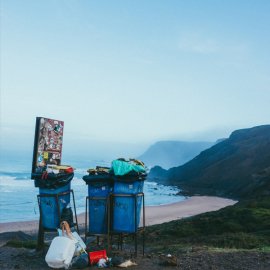 This week we're discussing the consequences of consumption. We point to a recent exhibit in London entitled "Waste Age: What Can Design Do?" that highlights the fusion of nature and culture and the ways that we have produced a culture of waste. How might we transform our waste into materials that can be recycled, repurposed, and reprogrammed by design? What if we choose to create a culture designed to retain and maximize the built environment rather than destroy it? How do we transform waste into something lasting and sustainable?
About World Ocean Radio
Peter Neill, Director of the World Ocean Observatory and host of World Ocean Radio, provides coverage of a broad spectrum of ocean issues from science and education to advocacy and exemplary projects. World Ocean Radio, a project of the World Ocean Observatory, is a weekly series of five-minute audio essays available for syndicated use at no cost by college and community radio stations worldwide.
World Ocean Radio is produced in association with WERU-FM in Blue Hill, Maine and is distributed by the Public Radio Exchange and the Pacifica Network.
Available for podcast download wherever you listen to your favorites.
Image
Portugal coast
Tobia Tullius
References
Waste Age: What Can Design Do? Exhibit at Design Museum in London, 2022
designmuseum.org/exhibitions/waste-age-what-can-design-do