Hurricane Harvey and the Future: What Would a New Houston Look Like?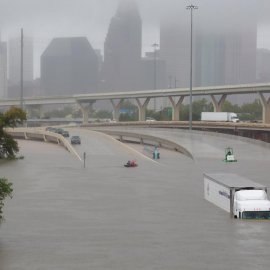 Natural forces unleashed an epic scale of destruction on Houston and surrounding areas of Texas. Built upon consumption, unmitigated growth, and fossil fuels, critics now point to the consequences of development based on an outdated paradigm. In this episode of World Ocean Radio, host Peter Neill asks, "What are the questions we should be asking, and what are the lessons to be learned from this catastrophe?" and he suggests a new, reorganizing principle on which to rebuild, one that redesigns in the face of a changing climate future, and one that manages growth and treats water as an asset, not an enemy.
About World Ocean Radio
Peter Neill, Director of the World Ocean Observatory and host of World Ocean Radio, provides coverage of a broad spectrum of ocean issues from science and education to advocacy and exemplary projects. World Ocean Radio, a project of the World Ocean Observatory, is a weekly series of five-minute audio essays available for syndicated use at no cost by college and community radio stations worldwide.
Image
I45, submerged from the effects of Hurricane Harvey, which caused widespread flooding in Houston, Texas and surrounding areas.
Credit
Richard Carson for Reuters (c)