Legacy Plastic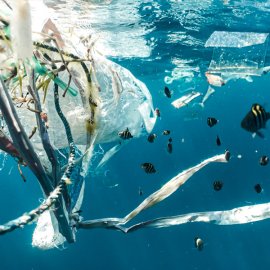 This week on World Ocean Radio we're discussing recent reporting on the impact of deteriorated plastic waste and the ways that it has invaded our waterways, our oceans and our bodies. If we never made another piece of plastic again, are we able to ever be free of the damage plastic has already done worldwide? Can it be reversed? Are we even trying?
About World Ocean Radio
Peter Neill, Director of the World Ocean Observatory and host of World Ocean Radio, provides coverage of a broad spectrum of ocean issues from science and education to advocacy and exemplary projects. World Ocean Radio, a project of the World Ocean Observatory, is a weekly series of five-minute audio essays available for syndicated use at no cost by college and community radio stations worldwide.
World Ocean Radio is produced in association with WERU-FM in Blue Hill, Maine and is distributed by the Public Radio Exchange and the Pacifica Network.
Available for podcast download wherever you listen to your favorites.
Image
Plastic pollution and juvenile fish. Photo by Naja Bertolt Jensen @naja_bertolt_jensen on Unsplash
Reference
Opinion: The Ocean Is Returning Our Plastic Waste. That's a Real Problem.
by Charlotte Svenson
undark.org/2021/12/09/the-ocean-is-returning-our-plastic-waste-thats-a-real-problem/