Storage Solutions for a Clean Energy Future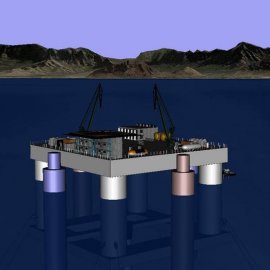 As we are increasingly reliant on energy to power our grids, our devices, our batteries, our electric vehicles, our computers and our systems, the requirement for storage increases exponentially. We currently derive a significant portion of this energy storage from extraction--mining for rare earth metals and uranium. In this episode of World Ocean Radio we ask, "Where are the inventive and novel ways to generate energy and store it?" And in response we propose OTEC--ocean thermal energy conversion--as a new way for nature to generate and store our energy needs into a sustainable future.
Do you prefer the written word? Head on over to Medium.com/@TheW2O.
About World Ocean Radio
World Ocean Radio is a weekly series of five-minute audio essays available for syndicated use at no cost by college and community radio stations worldwide. Peter Neill, Director of the World Ocean Observatory and host of World Ocean Radio, provides coverage of a broad spectrum of ocean issues from science and education to advocacy and exemplary projects.
Image Credit
Courtesy of NewAtlas.com

Ocean Thermal Energy Conversion (OTEC)
is a marine renewable energy technology that harnesses the solar energy absorbed by the ocean to generate electric power. The sun's heat warms surface water considerably more than deep ocean water, which creates the ocean's naturally available temperature gradient, or thermal energy.
Learn more about OTEC here.