Ocean Health Index

Image courtesy of OceanHealthIndex.org
2020 Global Ocean Health Index score: 70 out of 100
The Ocean Health Index announced its 2020 global score: 70 out of 100. While specific goals and regions have had significant changes, global scores have remained largely stable since 2012.
2021 Collaboration
April 2021
In the coming months, in collaboration with the Ocean Health Index, the World Ocean Observatory is proud to be highlighting the goals and sub-goals of the Index and how countries are measuring up based on the 2020 Index numbers.
About the Ocean Health Index
The Ocean Health Index is a tool for ongoing assessment of ocean health. It rates the health of the ocean by country on one of ten goals: food provision, artisinal fishing opportunities, natural products, carbon storage, coastal protection, coastal livelihoods & economies, tourism & recreation, sense of place, clean waters, and biodiversity. One of the goals of the Index is to help countries make more informed policy decisions, especially in those regions that have already expressed a commitment to improving ocean health.
The Goals
1. Establish a new world standard for measuring ocean health;
2. Influence decision-makers and raise global awareness to generate positive and dramatic action for improved ocean governance and health;
3. Establish (globally) clean water, food provision, carbon capture, biodiversity, coastal protection, recreational opportunities, artisanal fisheries, support of local economies, and a "sense of place".
The Ocean Health Index rates coastal places (from regions to nations) on 10 goals:
< Artisanal Fishing Opportunity
< Biodiversity
< Carbon Storage
< Clean Waters
< Coastal Livelihoods and Economies
< Coastal Protection
< Food Provision
< Natural Products
< Sense of Place
< Tourism and Recreation
and is a tool for evaluating the state of the world's oceans. The scoring system is based on assessment of ecological, social, economic and political factors for every coastal country and takes into account the major factors that influence the quality of regional marine ecosystems (listed above) and assigns a score from zero to 100 for each locale. To create the index, marine scientists from a range of conservation, academic, and government institutions developed a scoring system to assess the health of the oceans by focusing on the relationship between people and the sea.
Researchers evaluate ecological, social, economic, and political factors for every coastal country in the world, and then ran the data through the comprehensive metric to get a score for each.
The Ocean Health Index is designed to help countries make more informed policy decisions, especially in those regions that have already expressed a commitment to improving ocean health.
AN APP FOR THE OCEAN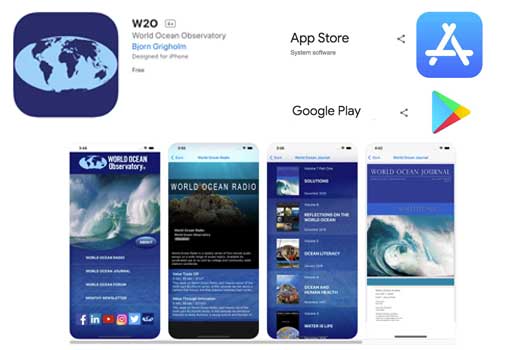 We have a NEW APP to showcase W2O programs and offerings. Download the app for free today on the App Store by searching for "W2O". With the app installed you'll have access to our weekly World Ocean Radio broadcasts, each issue of the World Ocean Journal, updates to the World Ocean Forum blog, access to these monthly newsletters, and more—all in one easy-to-use app! We hope you'll download today, RATE AND REVIEW on the App Store, and let us know how it works!
THE ECONOMIST GROUP'S
WORLD OCEAN SUMMIT ASIA-PACIFIC


Investing in the Blue Economy
December 6-10, 2021
The W2O is pleased to be an Association Partner for the upcoming World Ocean Asia-Pacific. The agenda will provide the platform for nuanced conversation and tailored discussion to catalyze the blue economy in the Asia-Pacific. We will support the December summit throughout this year by sharing event details, research, reports and news as it relates to the World Ocean Summit.

SUPPORT W2O WHEN YOU SHOP ONLINE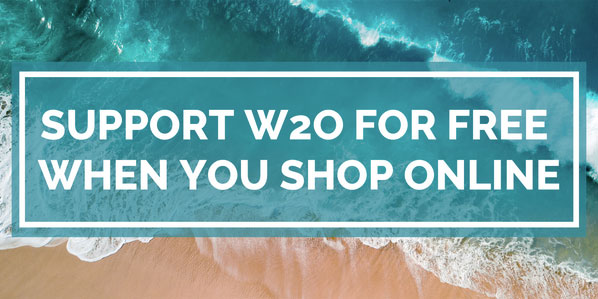 GreenH2O Rewards is a free browser extension that gets 30,000+ stores to contribute part of your purchase price to water-related charities. When you join through our referral link, you'll automatically be supporting W2O, at no extra cost, when you shop online. GreenH2O Rewards extension will also save you money by automatically applying the best discount code for you when you're checking out. What could be better than saving money and helping save the ocean?
* GreenH2O Rewards will never collect your personal information nor sell your data.
OUTLAW OCEAN MUSIC PROJECT:
WHERE MUSIC MEETS JOURNALISM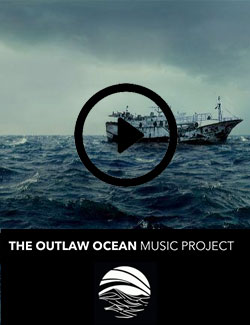 All music in this project is based on THE OUTLAW OCEAN, a New York Times best-selling book by Ian Urbina that chronicles lawlessness at sea around the world. The reporting touches on a diversity of abuses ranging from illegal and overfishing, arms trafficking at sea, human slavery, gun-running, intentional dumping, murder of stowaways, thievery of ships, and other topics. The music is an act of solidarity across geography and language, and an attempt at storytelling from written word to music. It is a captivating collection of inspired songs. Take your pick: listen to ambient tracks, classical, electronic or hiphop.