Teaching Forward Toward a Sustainable Future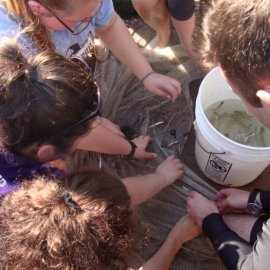 "Are we training our best new minds in the worst ways?" In this week's episode of World Ocean Radio host Peter Neill asks this question and more of scientists and educators working for sustainability and environment, urging them to question conventional thinking and to provide students with the research skills, curiosity, and necessary knowledge to create new ways of thinking to bring us into a sustainable future.
About World Ocean Radio
Peter Neill, Director of the World Ocean Observatory and host of World Ocean Radio, provides coverage of a broad spectrum of ocean issues from science and education to advocacy and exemplary projects. World Ocean Radio, a project of the World Ocean Observatory, is a weekly series of five-minute audio essays available for syndicated use at no cost by college and community radio stations worldwide. A selection of episodes is now available in Portuguese, Spanish, French, Swahili, and Mandarin, enabling us to reach 75% of the world's population. For more information, visit WorldOceanObservatory.org/world-ocean-radio-global.
Image Credit
SunyMaritime.edu