A weekly series of five-minute audio essays on a wide range of ocean issues from science and education to advocacy and exemplary projects, brought to you by long-time host Peter Neill. Available for RSS feed, podcast, and syndicated use at no cost by community radio stations worldwide.
| | | | |
| --- | --- | --- | --- |
| We live in an age of constant chatter, yet we are failing globally to communicate meaningfully on issues related to Arctic governance and its natural resources. In this episode of World Ocean Radio, host Peter Neill discusses the many interests in Arctic oil, gas, uranium, fisheries, tourism, trade, and transportation in a changing Arctic, and questions why a constructive dialogue between native peoples and corporate interests has yet to be formulated. | A recent east coast storm unearthed the remains of America's last slave ship in Alabama: the Clotilda. These remains, and the artifacts from another slave ship, the São José-Paquete de Africa, are important symbols of the cultural relationship and interconnected history of the trans-Atlantic slave trade. In this episode of World Ocean Radio host Peter Neill speaks about maritime culture, the last slave ships, the atrocities of the slave trade, and the ways in which our cultural identity in the... | What if we were to accept water--in all its forms and functions--as the system around which we organize and calculate value as a contribution to profit and loss? What if we did the same thing with fossil fuels, more accurately presenting the true cost of expenditure and consequences? In this episode of World Ocean Radio, host Peter Neill argues that we need a new way to value water, and that if we accept water as both a basic human right and the new capital, it can become an investment of... | On June 9th, 2018, a March For The Ocean (M4O) will take place in Washington, D.C. and in cities around the world. In this episode of World Ocean Radio, host Peter Neill will encourage listeners to gather in the nation's capital, to find a march in a city nearby, to organize, and to volunteer. He will argue that we must declare, loudly and publicly, that the ocean will prevail and will continue to support us for generations to come if only we have the courage and the will to sustain it. |
| This week on World Ocean Radio host Peter Neill introduces podcast listeners to WORLD OCEAN EXPLORER: an ambitious new project to create a free virtual aquarium and ocean exploration experience centered around STEM-based ocean literacy for students ages 10 and up. And he invites all listeners to share in the construction of this project by investing in its future today. | What is the framework by which to outline our values, structures, and behaviors regarding the ocean, fresh water, and all the benefits of nature required for human survival? In this episode of World Ocean Radio, host Peter Neill examines this question and provides us with an overview of the Design Lens of Biomimicry 3.8, an organization dedicated to learning from the natural world in order to respond to our present day situation. He'll share the nine principles of the biomimicry architecture... | This week on World Ocean Radio we celebrate marine protected areas and discuss their importance to biodiversity, ecosystem resilience, and the mitigation of climate change and other destructive forces at work on the planet. | At the end of each year, World Ocean Radio host Peter Neill reads the poem "At The Fishhouses" by Elizabeth Bishop. This perennial favorite is chosen not only for its relevance for the New Year, but also because it distills years of Bishop's seaside meditations and evokes the clarity of meaning contained in personal encounters with the ocean. Best wishes, now and for the New Year, from the World Ocean Observatory. |
| The first Arctic highway was the sea: a moving, shifting system that allowed its inhabitants to be sustained for generations. Since 1974, two more roads have been carved from the Arctic landscape: the first to connect oil fields in the north to consumers in the south; and the second, opened this year, to connect Inuvik to Tuktoyaktuk. This second project, more of a local endeavor, links the land's indigenous peoples to economic opportunity and affordable goods and resources. This week we talk... | This week on World Ocean Radio we talk about springs, those fresh water seeps that serve as an integral part of the earth's water system. We introduce listeners to a new app, Hide and Seep, developed by the Spring Stewardship Institute in collaboration with the US National Parks Service Bureau of Land Management and ESRI. Hide and Seep is a mapping software tool that allows citizen scientists to locate water sources and add them to a vast database of fresh water springs. | In this episode of World Ocean Radio we ask who benefits from current solutions to ocean acidification, co2 emissions, and plastic pollution, and if there might be simpler ideas that involve investments in green technologies, demand for alternatives, and a shift in attitudes and behaviors away from a bankrupt system of fossil fuels toward one of sustainability and solution. | In this week's episode of World Ocean Radio, host Peter Neill outlines some of the various applications of the oft-times controversial artificial intelligence technologies employed at sea. And he asserts that since the ocean is a place of connection, we should be thinking of digital platforms as a way to design and integrate global systems for a successful and sustainable future. |
| In this episode, host Peter Neill discusses the need for more funding and energy directed toward the vast unknown ocean, and the importance of scientific endeavor and observation. And he highlights the work of the General Bathymetric Chart for the Oceans (GEBCO), a project dedicated to completing the full mapping of the world ocean by 2030. | This week on World Ocean Radio: part five of a multi-part series on the Arctic. In this episode, host Peter Neill discusses the ongoing debate over geological claims to the Arctic and who owns the rights to the natural resources in the vast outer limits of Arctic waters. | This week on World Ocean Radio: part four of a multi-part series on the Arctic. In this episode, host Peter Neill examines the rights of the indigenous peoples of the Arctic; their role in governance and their limited powers at the bargaining table; the realities of their health and welfare; and the myriad effects of management, policy, and outside interests by foreign governments. | As fisheries worldwide are being depleted by over-fishing and illegal, unreported, and unregulated fishing (IUU), interest in an ever-expanding Arctic is growing exponentially. In this episode of World Ocean Radio, host Peter Neill outlines a July 2015 meeting of five Arctic nations during which catch limits were imposed; and a follow-up meeting in April 2017 in which delegates from five additional countries took the agreement a step forward toward legally binding, an effort that would prevent... |
AN APP FOR THE OCEAN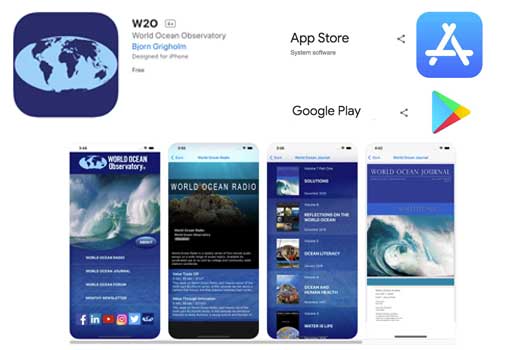 We have a NEW APP to showcase W2O programs and offerings. Download the app for free today on the App Store by searching for "W2O". With the app installed you'll have access to our weekly World Ocean Radio broadcasts, each issue of the World Ocean Journal, updates to the World Ocean Forum blog, access to these monthly newsletters, and more—all in one easy-to-use app! We hope you'll download today, RATE AND REVIEW on the App Store, and let us know how it works!
THE ECONOMIST GROUP'S
WORLD OCEAN SUMMIT ASIA-PACIFIC


Investing in the Blue Economy
December 6-10, 2021
The W2O is pleased to be an Association Partner for the upcoming World Ocean Asia-Pacific. The agenda will provide the platform for nuanced conversation and tailored discussion to catalyze the blue economy in the Asia-Pacific. We will support the December summit throughout this year by sharing event details, research, reports and news as it relates to the World Ocean Summit.

SUPPORT W2O WHEN YOU SHOP ONLINE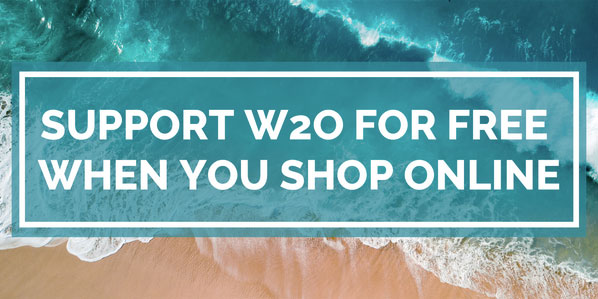 GreenH2O Rewards is a free browser extension that gets 30,000+ stores to contribute part of your purchase price to water-related charities. When you join through our referral link, you'll automatically be supporting W2O, at no extra cost, when you shop online. GreenH2O Rewards extension will also save you money by automatically applying the best discount code for you when you're checking out. What could be better than saving money and helping save the ocean?
* GreenH2O Rewards will never collect your personal information nor sell your data.
OUTLAW OCEAN MUSIC PROJECT:
WHERE MUSIC MEETS JOURNALISM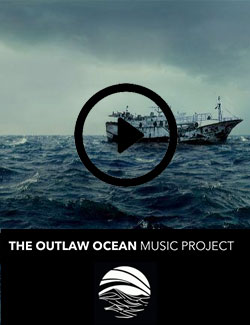 All music in this project is based on THE OUTLAW OCEAN, a New York Times best-selling book by Ian Urbina that chronicles lawlessness at sea around the world. The reporting touches on a diversity of abuses ranging from illegal and overfishing, arms trafficking at sea, human slavery, gun-running, intentional dumping, murder of stowaways, thievery of ships, and other topics. The music is an act of solidarity across geography and language, and an attempt at storytelling from written word to music. It is a captivating collection of inspired songs. Take your pick: listen to ambient tracks, classical, electronic or hiphop.